For my recipe, Low-FODMAP Banana Hemp Breakfast Mug Cake (below), I decided to add in some hemp seeds.  Have you tried them?  They're not hugely popular (yet) but it's truly great they're low in FODMAPs because they can provide an array of health benefits.  They are easily digestible and high in insoluble and soluble fiber and an excellent source of nutrition. "The healing properties of hemp seed can be attributed to high levels of EFAs and other PUFAs in the oil, in addition to a rich source of important amino acids in an easily digested protein."  J.C. Callaway Department of Pharmaceutical Chemistry, University of Kuopio, FIN-70211 Kuopio, Finland.  EFAs are essential fatty acids and PUFAs are polyunsaturated fatty acids.
3 tablespoons of Manitoba Harvest Hemp Hearts Raw Shelled Hemp Seeds provides 10g of protein, 3 g of fiber, 110% manganese, 45% phosphorus, 45% magnesium (helps with digestion by relieving constipation), 25% thiamin, 20% iron, 20% zinc and more.
EFAs are comprised of omega-3s and omega-6s.  Along with omega-3s, omega-6 fatty acids play a crucial role in brain function, and normal growth and development. The typical American diet tends to contain 14 to 25 times more omega-6 fatty acids than omega-3 fatty acids.  It's good to have both omega-3s and omega-6s in your diet, but more omega-3s than omega-6s.  Why?  Because omega-6s are pro-inflammatory, and omega-3s are neutral. Too much omega-6s and not much omega-3s will increase inflammation. More omega-3s and not much omega-6s will reduce inflammation.  Examples of foods in the Western diet high in omega-6s that pose the greatest risk of death from heart disease are vegetable oils such as soybean oil, safflower and corn oils.
Hemp seeds are a great protein source, as more than 25% of their total calories are from high-quality protein.
You can get more omega-3s from low-FODMAP sources such as flaxseed oil, fish oil, chia seeds, walnuts, fish roe (eggs), fatty fish, seafood and spinach.
According to research, "lifestyle" diseases—such as arthritis, heart disease, cancer, diabetes, obesity and others are reduced by increasing dietary intake of omega-3s.
If you've never used hemp seeds before, now is the time to add them to your smoothie, add them to your oatmeal or quinoa flakes, sprinkle them on your salads or in soups, add them to a low-FODMAP dressing, add them to protein balls or to your baking.  What are some benefits of hemp seeds?  Check out this infographic from evo hemp: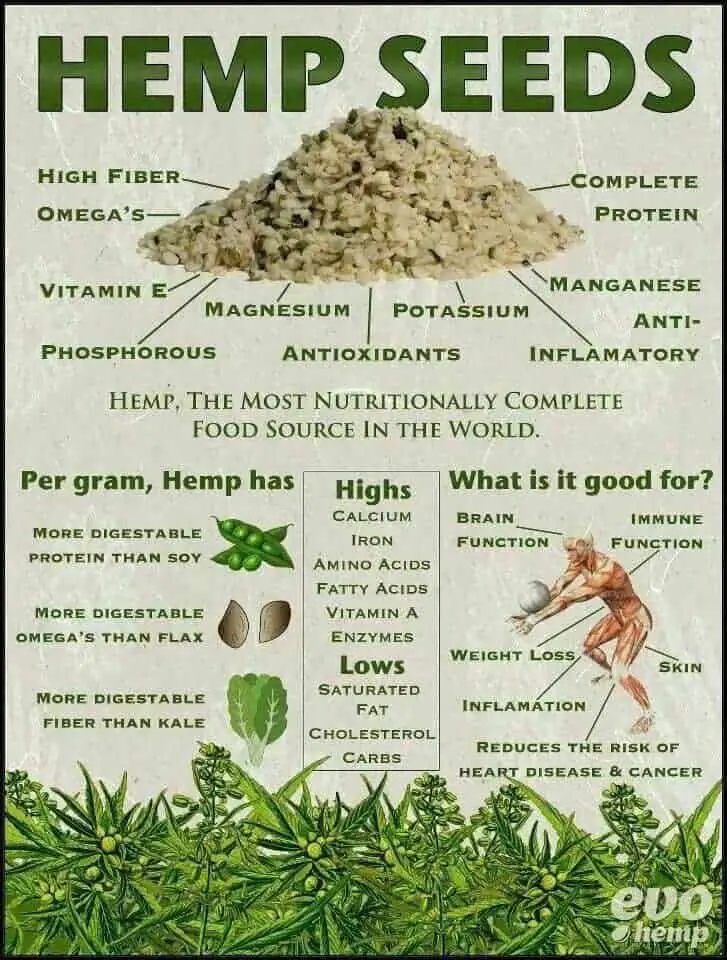 Low-FODMAP Banana Hemp Breakfast Mug Cake
Serving: 1
Ingredients:
Non-stick cooking spray
3 tablespoons all-purpose gluten-free flour
1/8 teaspoon salt
1/8 teaspoon baking powder
1/8 teaspoon baking soda
1 scoop protein powder (optional) such as FODMAP Friendly Jay Robb Unflavored Egg White Protein Powder
2 tablespoons raw shelled hemp seeds (I use Hemp Hearts)
1 egg (or flax egg)
1 drop stevia (such as Pyure)**
1/4 teaspoon vanilla extract
1/2 tablespoon vegetable oil
1 tablespoon low-FODMAP milk
1 medium banana, mashed
8-10 dark chocolate chips for topping (optional)
Note: Protein powder is optional, but it's a great way to get another dose of protein in this recipe.  The other dose of protein you are receiving is from the hemp seeds.  Either way, with or without the protein powder, the mug cake will turn out delicious.
Pyure contains Erythritol which is safe on the low-FODMAP diet: "Erythritol is also more difficult for bacteria in the large intestine to break down, so is far less likely to cause gas or bloating symptoms than other sugar polyols (even when it is malabsorbed)."  Read more here from Monash University.
Instructions:
Spray a microwave safe mug with cooking spray or grease with butter or vegan butter.
Right within mug, whisk in gluten-free flour, salt, baking powder, baking soda and hemp seeds. Add egg and stevia and whisk until incorporated with dry ingredients. Mix in vanilla extract, oil, milk and mashed banana.
Place in microwave for 1 to 3 minutes.  Microwave times vary.  I cooked my mug cake for 2 minutes, and my microwave is 1460 W.  Top with dark chocolate chips. Let stand for a couple minutes.
Have a great morning!
Love Us, Follow Us and Subscribe! Click on the links below:
Be good to yourself and your gut!
Colleen Francioli
Certified Nutritionist Consultant
Founder FODMAP Life & BonCalme
Sources: