Happy Holidays to you!  If you have IBS, I hope this holiday season is easy on your gut!  I have hand selected a list of gift ideas for those of us with tummy troubles.  Share this list with friends and family or treat yourself!
Here's my 2015 Gift Guide
For the home:
Poo-Pourri Secret Santa  Bathroom Spray.
Expecting guests?  Or would you like to keep your bathroom smelling just as nice as the rest of your festive home or office?  Poo~Pourri Secret Santa is a blend of cinnamon, vanilla and citrus natural essential oils.  This spray helps to eliminate bathroom odor before it begins by creating a barrier on the water's surface. Pou~Pourri calls it a "Spritzmas miracle!" and it is! Buy it here.
For Your Diet:
Uncle Harry's Wheat-Free Asafoetida Powder is 50% OFF when you order here and use the code "FODMAPLife" at checkout!
LoveBug Probiotics
 are 20% OFF when you order here and use the code "FODMAP20" at checkout!
Harney & Sons Peppermint Herbal Decaf Tea
: I love Harney & Sons teas, it's definitely my favorite brand.  When I am not feeling my best and trying to soothe distention, constipation or a little stress, I sip this tea.  Buy it here.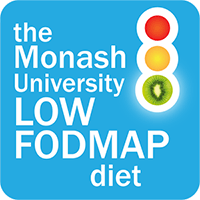 Monash FODMAP App: Buy an iTunes gift card for your friend with IBS so they can download the The Monash University Low FODMAP Diet App!  This is an essential app to have to reference while out shopping for food, dining out or attending parties or events.  It's the only source you should trust for determining which foods are high or low in FODMAPs and the app gives you the appropriate servings for each food.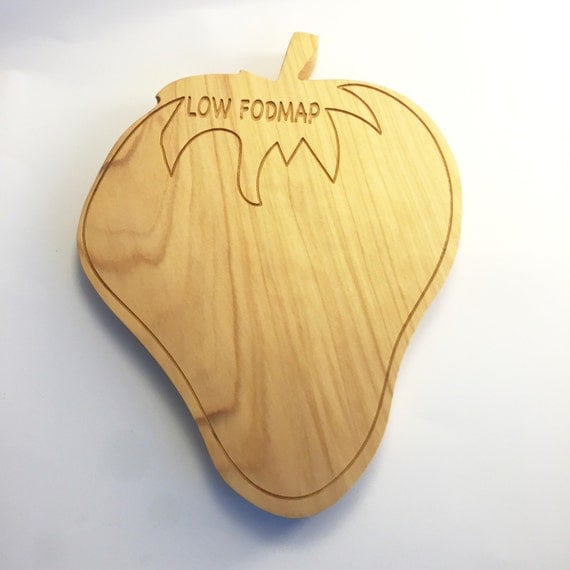 Low Fodmap Serving Platter, Low Fodmap Chopping Board is 20% OFF for my fans!  Use the code  "FODMAPLife" at checkout!
Kasia the creator of this beautiful and ever-so helpful piece says: "I made this board as I have a large list of food intolerances under the string of carbohydrates listed under the acronym Low FODMAP, and know what it's like to get accidentally FODMAP attacked." Buy it here
Ships worldwide from Auckland, New Zealand
***Will not arrive in time for Christmas (if shipping Internationally outside of NZ), but if you order now you could always print a picture of her piece and put it inside your Christmas card 🙂
Buy Low-FODMAP Products Online:
Access my list of food products with links of where to buy them online.  My list contains products that have ingredients low in FODMAPs.  They should not trigger symptoms of IBS, just be sure to always pay attention to serving sizes (never eat anything in excess, everything in moderation). All of these products are super helpful to have on hand and make a great gift for yourself or someone you know who is following the low-FODMAP diet.
For Your Book Collection
Low-FODMAP Diet
The Everything Guide To The Low-Fodmap Diet: A Healthy Plan for Managing IBS and Other Digestive Disorders by Dr. Barbara Bolen and Kathleen Bradley, CPC.  Dr. Barbara Bolen, an IBS specialist, provides advice and tips for developing a personalized and realistic healthy eating plan. And with 150 low-FODMAP and gluten-free recipes, you can reduce digestive distress and feel great while enjoying satisfying and nutritious meals! With this book you can learn how to:
Understand food allergies and intolerance
Identify high- and low-FODMAP foods
Eliminate FODMAP sources from your diet
Stock your pantry for success
Create your own personalized diet based on your unique needs
Re-create favorite recipes using low-FODMAP ingredients
IBS-Free Recipes for the Whole Family (The Flavor without FODMAPs Series) (Volume 2) by Lisa Rothstein recipe developer, Patsy Catsos MS, RDN, LDN and Karen Warman MS, RD, LDN (learn more about the authors here).  From lunch-box to the briefcase, picnic to dinner party and after-school snacks to dessert, these ladies have shared a few delicious low-FODMAP recipes for the whole family to enjoy.  If you or a family member are following the low-FODMAP there's no need to make separate meals as everyone can enjoy these recipes together.  In this book you'll find: Tips and precautions for using the FODMAP approach with children; Menus for breakfast, lunch and dinner; Snack ideas; Lists of low-FODMAP foods (updated 9/2015); Flavor without FODMAPs in over 110 recipes; Low-FODMAP versions of family favorites.
Gluten-Free
Bob's Red Mill Everyday Gluten-Free Cookbook: 281 Delicious Whole-Grain Recipes by Camilla Saulsbury.  This book in its entirety is not recommended for the low-FODMAP diet, however some recipes are low-FODMAP or need slight alterations to make them low-FODMAP.  Here are a few I researched:
Bok Choy Chia Salad (low-FODMAP)
Avocado, Orange and Millet Salad (low-FODMAP if you swap honey for maple syrup and serve 1/8th serving each from the whole avocado)
Zucchini and Millet Salad (low-FODMAP)
Kale and Quinoa Salad with Maple Vinaigrette (low-FODMAP as long as you use the green tips of the onions)
Multi-Seed Bread (low-FODMAP)
Quinoa Banana Bread (low-FODMAP)
Carrot Bread with Coconut and Cardamom (low-FODMAP)
The Gluten-Free Table: The Lagasse Girls Share Their Favorite Meals by Jilly Lagasse.  If you're a foodie, you might automatically think of Emeril Lagasse when you hear or see the word BAM!  Well this king of the kitchen has two talented daughters that cooked up a really good book of gluten-free recipes.  This book is not recommended for the low-FODMAP diet but it's great for any of your friends who are following a gluten-free diet (and it's great to draw on some inspiration for low-FODMAP recipes if you know what to swap out).
Digestive Health with REAL Food: The Cookbook by Aglaee Jacob.  Aglaée Jacob, M.S., R.D., has had a lifelong interest in the connection between food and health, and her personal health struggles led her to deepen her knowledge in the field of digestive health. She offers personalized, holistic nutrition counseling to clients around the world, specializing in digestive health, blood sugar regulation and fertility, and is the author of paleo-dietician.com. Try these recipes:
Faux Muffins
Speedy Recovery Soup
Herb-Infused Oil
Creamy Cream-Free Ice Cream
Mind & Body
Design the Life You Love by Ayse Birsel.  I love this book.  It's beautifully designed and you get to write in it and get creative with your thinking.  It's inspiring, empowering and because it's interactive, it helps relieve stress.  Often times when I consult with clients and help them with diet and nutrition, they tend to have a few things weighing heavy on their minds.  Financial stress is probably the number one complaint, as well a feeling of being stuck in another situation that makes them unhappy (weight or body image, a relationship or job).  Having these issues to contend with doesn't help when you suffer from IBS, in fact compared to healthy people who do not have IBS, personal issues from stress can make IBS worse.  The book uses four steps that help you to reveal hidden skills and wisdom, teaching non-designers how to create a meaningful life using a proprietary creative process, Deconstruction:Reconstruction™.  So go ahead, design the life you've always wanted!  It's never too late.
Digestive Intelligence: A Holistic View of Your Second Brain by Irina Matveikova.  This book teaches you about your digestive system, how it is at the center of your body's second brain and how we think and live our emotions via our stomachs.  She talks about the connection between emotions and digestion and the way our digestive system influences our mood and character.
I hope you enjoy these gift ideas and have a very HAPPY HOLIDAYS!
Love Us, Follow Us and Subscribe! Click on the links below:
Have a great rest of your day!
Colleen Francioli
Certified Nutritionist Consultant
Founder FODMAP Life & BonCalme