The 38th annual Natural Products Expo West & Engredea, the world's largest natural, organic and healthy products event, is coming back to the Anaheim Convention Center next week, March 7-11, 2018. Last year, the expo had over 80,000 attendees. Based on growth year after year, they'll probably exceed attendance once again. Why does this show do so well?
Pioneers in the natural products space, genius innovators, game changers for health and wellness as well as the voices that help promote these people, products, and ideas have the immense opportunity to come together, make waves and help improve the lives of so many. It's all the best talent in the natural products space, buzzing around for a few days, up and down escalators, back and forth through exhibit halls. They are tasting, smelling, trying on, talking, connecting and ending the day with casual cocktail hours and parties.
It's hard to put into words the energy you feel at this show. It never gets old. It builds on you leading up to the show, it carries you through during the show (making many attendees forget to eat a real lunch because the show is so exhilarating), and lastly, the energy stays with you for weeks after as you follow-up with your connections, sift through photos and videos and continue to try products.
I've been headed to Expo West for five years now and also went to Expo East twice.  For the third year in a row, I'm on the New Hope Blogger Team for Expo West and I'm thrilled to attend once again. I would love to share with you some of the brands I'll connect with and the products I am looking forward to trying out. At the end of the show, I will choose three of my favorite expo finds which will be published on www.NewHope.com and on my blog www.FODMAPLife.com.  At Expo West, I make many connections in the natural products space, meet brands to work with for paid and cross-promotional campaigns, meet other bloggers for cross-promotional opportunities, get hired for recipe development, speaking opportunities, writing articles about the low-FODMAP diet and digestive health, and so much more.
I write mostly about the low-FODMAP diet, an elimination diet for people with Irritable Bowel Syndrome (IBS). Last year, low-FODMAP products were listed among the top 10 trends at Expo West by Food Business News and we are just at the beginning of seeing this dietary approach to IBS take off. In the U.S., certified low-FODMAP products are available online, but more are starting to hit the shelves of grocery stores across the states. The consumers demand them and need them because otherwise, they would have to make everything from scratch. So many convenience foods, snacks, sauces, marinades, dressings, juices, cookies, bread, crackers, cereals, yogurts, protein powders, (and many more packaged and pre-made foods) contain high-FODMAPs.
Check out what the other bloggers on the New Hope Blogger Team for Expo West are saying before this year's show:
Sarah Kay Hoffman – 2018 Natural Products Expo West
Lindsay Tredent Mauch – 5 Ways to Make the Most of Expo West 2018
Celiac and the Beast – Preview of Natural Products Expo 2018
Leah Segedie of Mamavation is having a Twitter Party March 8th – sign up here
Jan 12, 2018 By Stephen Daniells: The US market for low FODMAP foods aimed at helping IBS sufferers is still small and consumer awareness is low, but companies large and small are targeting a category that could be bigger than gluten-free.
The low-FODMAP diet is not a fad diet. Those of us in the space predict low-FODMAP products will take up more shelf space than strictly gluten-free products. (For clarification, the low-FODMAP diet reduces wheat in the diet, so it is not a gluten-free diet, however, some gluten-free products are free of other high-FODMAPs).
The low-FODMAP diet has been proven to be effective for around 70% of people who follow the diet according to protocol. The diet has been an immense relief for so many people around the world, but there are still millions more who have not heard of it – yet. Thankfully, more and more gastroenterologists and other health practitioners are beginning to share this diet with patients, and more nutritionists are offering services to help people along. So, while at the show, I will be looking for food products that are certified low-FODMAP, and FODMAP-friendly and I will also take a look at supplements and other products that can help with digestion as well as mental health.
A patient of IBS must take into consideration mental health, as they may be more sensitive to the inner workings of their digestive tract (movements, sounds, pain). The immune system is affected by stress and many people don't realize that 80% of our immune system resides in our guts. You can learn more about the Gut-Brain Connection on my website.
Here are my Top Expo West Must See Products:
FODMAPPED – Booth 8913 – I am the U.S. ambassador for this brand and will be at their booth Friday and Saturday. They are the world's first FODMAP friendly dedicated brand, producing soups, simmer sauces and stocks certified as FODMAP friendly. Manufactured in Australia out of real ingredients, all gluten-free and low FODMAP. We will be sampling some of their newest products.
FODY – Booth 5436 – Also certified low-FODMAP, this brand is out of Montreal QC. They will have a range of different low-FODMAP products.
Frusano – N1937 – A German company offering FODMAP Friendly fructose free and gluten-free products. I am not sure what to expect and really looking forward to seeing what they offer. Fructose malabsorption can be a huge problem when it comes to IBS.  Organic dark chocolate Ingredients: Organic cocoa mass, organic glucose syrup* (41%) (>glucose syrup), organic cocoa butter, emulsifier: organic sunflower lecithin, organic natural vanilla flavoring.  *Frusano guarantees a 100% fructose-free glucose syrup.
Eviva Collagen Elixir – Booth N1013 – Los Angeles, CA. The founder of this company, Elaine Morrison, reached out to me directly and stated that she too has Hashimoto's disease. I always like meeting the brains behind the brands, and especially when they've created products to tend to a personal need, and help others in the process. Says Elaine: "Four years ago I was diagnosed with a thyroid autoimmune disorder and added collagen to my daily routine and found the results were transformative." I am looking forward to trying the Lemongrass Ginger and Lavender Lemon flavors.  The Lemongrass Ginger contains the following FODMAP friendly ingredients: Water, Lemon Juice Concentrate, Organic Ginger Extract, Natural Lemon Balm Extract, Natural Lemongrass Extract, Organic Lemon Extract, Fruit and Vegetable Juice (Color), Monk Fruit Extract. Contains Fish.
Bio-K – Booth 4467 – A Canadian company, specializing in clinically proven probiotics providing a natural solution for intestinal upsets. At the show, they are introducing new 50 Billion capsules that have been repackaged and priced for a broader market.  The probiotics space can be extremely confusing for the consumer. Simply consuming good bacteria is not enough to have a real impact; the product needs to be backed by thorough research. Followers of FODMAPLife.com and many people I talk to who have digestive issues ask me what probiotics I use.  I tell them to watch out for brands who are overstating claims, and ask if their brand of choice provides evidence through science and clinical studies.  The types of strains are important, they must work well together and survive together at the stated billions count until expiration.  If there are too many strains, the probiotic may become ineffective; the bacteria will consume each other and die off.  The bacteria in probitoics are competing for space in your gut, and they need space in order to block pathogenic bacteria from colonizing the intestinal villi, goblet cells, and the colonic crypts. When they can block the sites, pathogens do not have space to adhere and subsequently cause infection.
I personally take Bio-K's certified organic Fermented Rice Blueberry liquid probiotic every day (pictured above), and it's made a huge difference in my gut health. I've met so many people that say the same thing about Bio-K. I think the fact they can prove the product's efficacy through science gives the consumer confidence in knowing this probiotic is the real deal.
Gelato Fiasco – Booth 8721 – I am looking forward to trying their dairy-free Strawberry Rhubarb Sorbetto!
Divine Chocolate – Booth 4974 – What a great business concept. Divine Chocolate is co-owned by the 85,000 farmer members of Kuapa Kokoo, the cooperative in Ghana that supplies the cocoa for each bar of Divine. As owners, they get a share in the profits, a say in the company, and a voice in the global marketplace. I'll be looking to try their 70% Dark Chocolate bar with Raspberries or the 85% Dark Chocolate bar.
Good Superfoods – Booth N415 – I am looking forward to trying their Amazon Berry Superfruits SUPERFOOD CHOCOLATE®, that's made with probiotics, is vegan and gluten-free.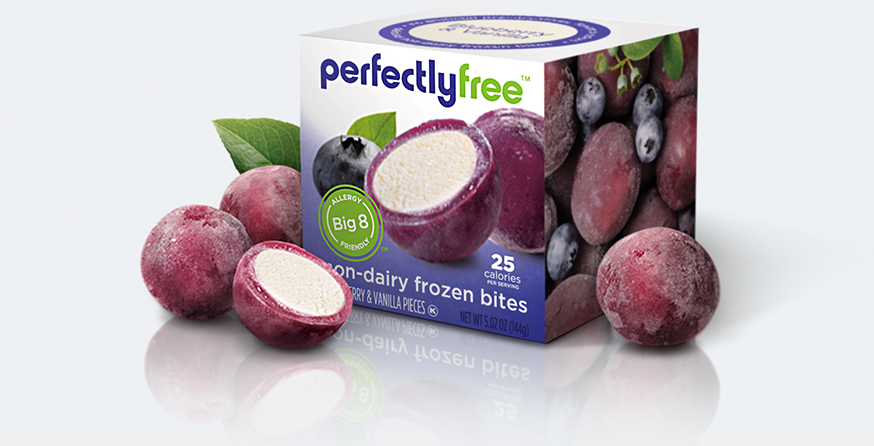 (Incredible Foods) Perfectly Free – Booth N212 – I can't wait to try their Blueberry Vanilla Bites – dairy-free, allergen friendly and made with FODMAP friendly ingredients: water, coconut cream, sugar, rice syrup solids, blueberry puree, contains less than 2% of blueberry juice concentrate, citric acid, guar gum, natural flavors, pectin, sodium alginate, sodium citrate, vanilla extract. (Contains Coconut).

MALK Organics – Booth 8013 – It's so hard to find a clean almond milk, but now I don't have to keep searching! I will be trying MALK's Unsweetened Almond Malk that's made with JUST three ingredients and NO gums or carrageenan. Ingredients: Organic almonds, Himalayan salt, filtered water.
Brekki – Booth 7101 – This refrigerated cup is ready-to-eat and contains almond milk, oats, buckwheat groats, puffed amaranth, coconut milk, chia, flax and more (new exhibitor). Vegan and gluten-free.
Rose Acre Farms – Booth N1542 – Egg Life Wraps (Nexty Award Finalist).  Made with water, egg whites, xanthan gum, salt anf nisin (a natural preservative).
Munk Pack – Booth 5753 in Hall E – Protein Cookies Double Dark Chocolate. Says Jenna Blumenfeld, Senior Food Editor, New Hope Network: "At 9 grams of protein per half-cookie serving, Munk Pack's Certified Vegan chocolatey cookie is a solid way to have your dessert and get energized by it, too. Inside this large cookie, you'll find peanut butter, dark chocolate chips, brown rice protein, gluten-free oat flour and turbinado sugar. The addition of zero-calorie monk fruit extract allows the sugar content to be lower than normal—9 grams for half the cookie, 18 grams for the whole shebang." (new exhibitor)
Further Food – Booth 8322 – I write for and create recipes for Further Food and am very much looking forward to seeing the team. I love their Collagen Peptides.  I use it every single morning in my low-FODMAP smoothies. "Further Food is a women-owned & operated mission-driven organization dedicated to promoting the philosophy that real food heals."
Tartly – Booth 7207 – I'm looking forward to trying their Blueberry Lemon Sparkling Fruit Shrub. It's made with apple cider vinegar, it's carbonated and does not contain any high-FODMAPs. Carbonated drinks can trigger symptoms of IBS for some, but if this drink has a light fizzle to it, it may work fine for me.
Obrigado – Booth N1304 – my husband is Brazilian, we love coconut water and I enjoy meeting up and coming Brazilian companies. I looked a little bit further into this company and found a few facts very worthy of sharing: Obrigado coconut water is made in Conde in Bahia, Brazil. Using mosaic farming, they started by setting aside 70% of their land as untouchable, preserved forest and have created ecological corridors to expand the local flora and animal populations. This natural preserve maintains the balance for the 30% of the land that they farm. We then divided the farmland into our unique Arista System that creates distinct areas that are under the complete control of highly skilled, highly trained "Aristas" – farmers who plant and nurture the growth of their coconut trees. They lovingly monitor and observe the needs of each individual tree to give it the exact amount of fertilizer and water it needs. And, of course, our farms are strictly non-GMO: "Because we are committed to the most eco-friendly, sustainable practices, our goal is to create zero waste, utilizing 100% of the coconut. For example, the dry husks of the brown coconut are used for fiber erosion control."
BraziBites (Brazilian-American husband and wife) is another brand my husband I and I really love (there might have been a time when we were eating their Pão de queijo every morning!).  Their Cheddar & Parmesan flavor (my favorite) does contain milk (Parmesan is low-FODMAP) so as long as you do not malabsorb lactose, this product may be FODMAP friendly for you.
Mental Health
Redd Remedies – Booth 4541 – I'll be trying the At Ease™ supplement which "is a naturally relaxing blend of herbs and minerals that promote focus and concentration while reducing stress and nervous tension. Formulated with powerful, balancing, non-sedative ingredients, supercharged with amino acids, adaptogens, B vitamins and magnesium, At Ease™ reduces stress, promotes relaxation and alertness creating a long lasting resistance to emotional stressors. Alert Relaxation with 4 key outcomes: promotes neurotransmitter balance, promotes healthy brain function, supports adrenal health, addresses the physical issues that go along with anxiety."
Pain & Stress Center Products – Booth 4783 – I am looking forward to learning more about their Anxiety Control® product: "A natural anxiety-stress remedy that contains a unique combination of amino acids, herbs, and magnesium that restores the key inhibitory neurotransmitters for a happy brain." This FODMAP friendly product may be a great natural option for those with Irritable Bowel Syndrome.
My schedule is already pretty booked up but I'll try and stop by some of my favorites like Justin's, Bob's Red Mill, 4th & Heart, Annie's, Acai Roots, Glutino, Vosges Haut Chocolate, and many others.
Do you represent a brand you think might be a good match for my audience? Must Please get in touch.
Looking forward to seeing everyone at the expo or connecting with you online!
Colleen Francioli, CNC
Resources for this article:
Probiotic engineering: towards development of robust probiotic strains with enhanced functional properties and for targeted control of enteric pathogens Moloko Gloria Mathipa and Mapitsi Silvester Thantsha, Author information ► Article notes ► Copyright and License information ►